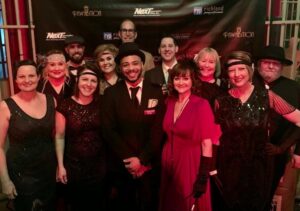 Don joined the Board of Directors with the Humane Society of Richland County in January 2016. Don earned his Bachelor's in political science and international relations with a specialization in security & intelligence from The Ohio State University and his Master's in Education from the University of Findlay. At 29 years old, Don became the youngest person elected to city-wide office in Mansfield since 1967. As City Councilman, Don's colleagues appointed him Chairman of public safety; with oversight of Mansfield police, fire, EMS, and 911 call centers. He is also the first African-American Chairman of the Mansfield Airport Committee and member of the Mansfield Airport & Aviation Commission (MAAVCOM), with oversight of Mansfield Lahm Airport.
Don has a passion for helping animals and especially loves dogs. Serving the shelter and animals in Richland County is one of the highlights of his personal and professional life. Reach out to Don anytime by contacting him via e-mail: db@donbryant.com
Ryan Smith
Vice President
Ryan was born and raised in Ashland, Ohio. He is a graduated from Ashland University in 2010 with a bachelor's degree in Finance.  Ryan began his career at Richland Bank as a Management Associate in 2010.  Upon completion of the program in October 2011, Ryan's first placement was as manager at the Kroger Madison Banking Center. In January, 2015 Ryan joined the Consumer Loan department with responsibilities in mortgage loan origination as well as indirect consumer loan financing. He was promoted to Banking Officer in June of 2016 and Assistant VP in September of 2017. Ryan will continue his responsibilities as a Mortgage Loan Officer and Regional Manager.
David Harmon
Treasurer
David Harmon grew up in Mansfield and graduated from Mansfield Senior High School.  His wife Virginia is also from Mansfield, and the two of them made their home in Columbus following graduation from The Ohio State University.  David and Virginia, along with their daughter Wendy, moved back to Mansfield in 2005.
David holds Bachelor of Science, Bachelor of Arts, Master of Arts degrees and has completed postgraduate coursework, all at OSU. He spent his career working in higher education finance, retiring as President & CEO of the Education Loan Servicing Corporation in 2011.  He currently provides consulting services to a variety of organizations.
Since returning to Mansfield, David has been active with Grace Episcopal Church, serving on the church vestry and assisting in the establishment of the parish food pantry.  He has served multiple terms as Treasurer, Vice Chairman and and Chairman of the Renaissance Performing Arts Association's Board of Directors, as well as a board member of Ohio Citizens for the Arts.  He joined the Humane Society of Richland County in 2018 and serves as Board Treasurer for the Society.
Mary is Mansfield native and a graduate of Lexington High School and North Central State College. She is currently a Senior Business Development Manager for the VNA.  A lifetime community advocate, Mary is actively involved with many organizations in Richland County.
Katie Crall
Downtown Mansfield Inc.
A Bucyrus native, Katie graduated from Wynford High School and earned her bachelor's degree from Bowling Green State University. She is currently the Sales and Marketing Specialist at Sun Graphics. Katie developed a love of animals at an early age growing up with bunnies, cats, dogs, and goats. As a volunteer, rescue animal parent of four and strict vegan she tries to do her part daily to support animal rights and their well-being. She is passionate about animal welfare and believes in saving animals by ending shelter killing, educating about breed discrimination, adopting/rescuing, puppy mills, and spay & neuter. Katie was thrilled to join the Humane Society of Richland County Board in 2018 in hopes to use her extensive marketing background along with her love of animals to help such a wonderful organization in anyway possible. Katie has a full house living with her Pit Mix Dylan, Great Dane Sarah, and two cats Muffins & Ava.
Sheila Dickson
Human Resources Specialist, VNA
Sheila Dickson discovered her passion and love for animals at the age of 5 when she was given a white German Shepard she named "Bobo".  Almost immediately she knew she would have a love affair with dogs for the rest of her life.   This love and connection with all animals' makes her compelled to step in, get involved and aid every animal she can.   She joined the Board of Directors for the Humane Society in 2016 to learn, grow and contribute to the animals in our community.
Jordan Phillips
Veterinarian, Phillips Animal Hospital
Dr. Jordan joined the staff at Phillips Animal Hospital after graduating from Iowa State University's College of Veterinary Medicine with a DVM degree in 2012. He also has a BSS in Chemistry from Huntington University. His interests include radiology, internal medicine and soft tissue surgery.
In his free time he enjoys playing soccer, disc golf, gardening and other outdoor activities. Dr. Jordan lives in Mansfield with his wife, son, daughter, an adorable pit bull named Simone, and two cats (Palomita and Backhoe).
Kristie Massa
Community Relationship Manager, Park National Bank
Kristie Massa was born in Mansfield, Ohio and has lived most of her life there. She is a 1991 graduate of Mansfield Senior High and earned her bachelor degree in organizational management from Miami University in 1995. She is in marketing and communications at Richland Bank. Kristie and her husband Zach live in Mansfield with their 5 dogs: Sophie, Sammy, Stella, Snickers and Mitzy and current Humane Society foster, Clementine.
John Rinehardt
Attorney at Law, Rinehardt Law Firm
Attorney John Rinehardt has devoted the entirety of his 30-year legal career to helping victims of wrongdoing obtain justice in the courts of Ohio.  John is grateful to have the opportunity to serve on the board because he believes that the treatment of animals can be a catalyst for a more just and compassionate society.  In the words of Mahatma Gandhi, "The greatness of a nation and its moral progress can be judged by the way its animals are treated."
For more information about John and the Rinehardt Law Firm, please visit www.RinehardtLawFirm.com.